Rector's Letter – February 2014
Dear Friends,
As I prepare this column we are coming to the end of the 1st month of 2014. Time does seem to fly! I would like to wish you all a belated happy New Year. I hope that God will bless each family in our Parish in 2014.
Firstly, may I say a huge thank you to all who contributed to and attended our many Christmas services. The reading by John McGowan of "A Christmas Carol" was, for our children, mesmerizing! In this digital age, isn't it amazing that story telling still has the ability to capture young and olds' imagination? The children's nativity, based upon the Jesse Tree, was a very imaginative way of telling the Christmas story and was entered into with gusto by the Sunday School and young people who conducted the service; thank you to all who assisted!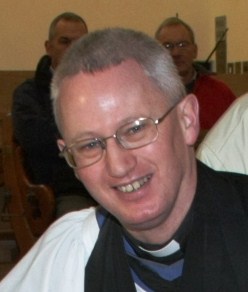 Our worship at Christmas is story telling! We hear the wonderful message of God's saving grace in the Nine Lessons and Carols and in the anthems by the Choir. Our children dramatically depicted the salvation story through their nativity service. It was lively and filled with much joy!
As we look ahead:
"FOR YOU! – FOR HIM" is the theme of our Diocesan Mission in 2015. This year – 2014 – is a year of preparation and over the coming year we will be looking at how we can be empowered to reach out into our community.
Our Bishop will visit the Parish on three occasions over the next few months: For the dedication of the Chapel of Healing on Sunday 7th February, for a Mission Consultation Evening with the Select Vestry on Thursday 27th March and for a Service of Confirmation on Sunday 18th May. It was a joy to have the young people of the Confirmation Class read the lessons at our evening Carol Service.
We praise God for their enthusiasm – they are a great bunch!
This is a last call for any adults who want to be confirmed! In our congregational life; what greater step could any of us take than to stand and to publicly affirm our faith in Jesus Christ and our commitment to His Church? Please contact me immediately.
Finally; a word about our finances: Thank you to all who contribute so generously to both the Free Will Offering (FWO) and the Renewal and Restoration Fund. The FWO is our running costs account; heat, light, consumables and salaries. This account is all-important, for resourcing the mission of our parish. Unfortunately, it is running at a slight deficit; could I ask everyone in 2014 to prayerfully consider their weekly giving and can I appeal to those who do not take or use envelopes to play their part in maintaining God's work through Donaghadee Parish Church. You can use envelopes or set up a Standing Order. (Please see Mrs Helen Murdie 91883482)
Our Renewal and Restoration campaign is progressing well. The debt on the restoration of the building stands at around £65,000 and through fund raising and the weekly white envelopes we are making great progress on clearing our overdraft. Thank you to all who, contribute, organize and support fundraising activities. We have made a huge dent on the original project costs of £869,000 (this includes the contract price, VAT, and professional fees from the inception of the project, as well as the architects drawings and management of the scheme) and for this we praise and thank God!
An end to house keeping matters! What fills me with joy in serving as your rector is the quality and depth of our relationships; we are shop no – all are made welcome and each of us comes as the hymn writer said – "Just as I am!". We meet Jesus, we are supported and encouraged in our journey and our passion is to tell others about the wonderful Lord we daily experience both in our lives and in our worship.
Start 2014 in a new way! He died FOR YOU – what will you do FOR HIM?
"But now in Christ Jesus you who once were far off have been brought near by the blood of Christ". Eph 2:13
God's Blessing in this New Year
Your friend & Rector,
 Ian Gamble