St Patrick and things you may not have known.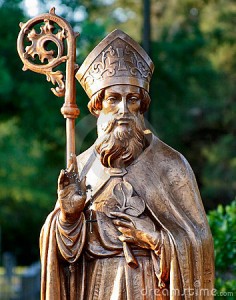 There are three patron saints of Ireland – Brigit, Columba and Patrick.
Patrick was the first Bishop of Armagh.
17th March is said to be the date of his death.
St Patrick used the three leafed shamrock to teach the Irish about The Father, The Son and The Holy Ghost.
St Patrick is also the patron saint of Nigeria and Montserrat.
On death St Patrick's body had to be carried back to Downpatrick to be buried with St Brigit and St Columba.
Donaghadee Parish Church is believed to have been a place of worship since Druids time with St Patrick visiting in 5th Century AD

when a stone church was erected known as the Church of "Dofnachti".
So celebrate our Patron Saint – a man from Donaghadee!!!!!!!!!!!!!.