Rector's Letter April 2015
Dear Friends,
Over this season of Lent I have been reflecting on our worship in Donaghadee Parish. We meet each Sunday to worship a God who created us and who in Jesus loves us so much that he was willing to sacrifice his precious Son for our redemption. Church is quite simply a gathering of those who want to meet with God.
During Lent four things have been happening: On Sundays I have been preaching about failure, forgiveness and faith. None of us are perfect! As husbands, fathers, children, brothers or even friends. We all make mistakes in our lives but the amazing message of the various Bible characters that I have been speaking about each Sunday, is that God gave each of them a second chance. That is the message of God's love that the Church proclaims each Sunday – He makes all things new. A modern song we sing says: "I am a new creation, no more in condemnation, here in the grace of God I stand."
Secondly, at Evening worship we have been looking at "Heroes of the Faith" People such as Dietrich Bonhoeffer, a minister in Germany who opposed Nazism during the Second World War, he was imprisoned and hanged for his opposition to Hitler. Thinking of such people shows us that faith is costly, and is a reminder of the many Christians in the world who are killed or imprisoned for their faith in Jesus Christ. For them going to Church on a Sunday is very costly – many in Donaghadee and supposedly Christian Great Britain – find other things to do on sundays – rather than worshipping God! During Holy week we will be devoting one evening to reflect upon the persecuted and secret Church around the world. I hope this comment prompts you to consider coming to Church!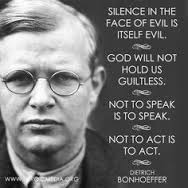 Thirdly, on Thursday evenings our Lent group has been meeting to reflect on what makes church life good! It is called "How to love your Church?" It is a time to look at all the things that are encouraging and positive about life in Donaghadee Parish Church but also time to consider: are there things that we could do better? It has led me to make a list of all the things I enjoy about our Church community: the welcome for the stranger, the mutual support, the quiet moments of prayer – especially for the sick, the joy and noise of the children on Sundays, all of the activities for the young and young at heart; as well as the fellowship and good craic! "Thank you God for all that is good about our Church Community." As people and a Church, I'm sure God looks at our faults as well but perhaps I'll keep that for another day – most belong to me!
Finally, this year in our Diocese, Bishop Harold Miller has proclaimed a Year of Mission. As we go to print we will have had two of our special mission services. It was lovely to see the church so full and I encourage those who have perhaps "lost contact" with Sunday worship to come along to the next mission Service. You will receive a warm welcome.
Easter is approaching; please see inside details of Holy Week and Easter Day worship. In a world that at times has had very little good news, what a victorious message we in the Churches of Donaghadee proclaim – sin and death is defeated, with the hymn writer we shout "my chains fell off my heart was free!" There is in life so much to oppress and depress us, come along and hear the amazing joyful message:
Christ is risen – he is Risen in deed!