The next guest  Sunday speaker will be Revd Kevin Graham who will join us on Sunday 12th April at our 10.30am Morning Service.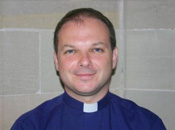 Kevin will share his reflections on his working life and how our work shapes our lives and our identity.  Our work can even overwhelm us.
Kevin has served in the RUC and has had a few other interesting careers!  He is the rector of St Bartholomew's, Belfast, an Army Reserve Chaplain to 204 Field Hospital and Queen's University Officer Corp. In his spare time he married Cheryl and is dad to two sons.
So if Kevin can give us an hour of his time then so can we.  Note the date and come along. Bring along your next door neighbour and find out how to deal with the struggles that life throws up.